Jake Jordan's Fishing Adventures
PO Box 309, Havelock, NC. 28532
Phone: (252) 444-3308 or Cell (305) 872-6060
I am in Alaska on vacation, fly fishing for Trout and visiting with friends, until October first. Check out my Alaska page for the latest fishing reports from up here in "The Great Land". I'll return to North Carolina to begin my Albie season on October first. Having fun in Alaska!
Jake
Having fun in Alaska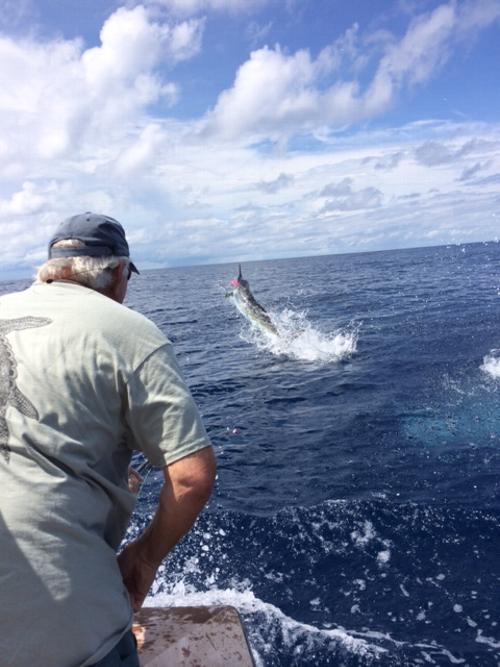 Paul Lombardi, fly angler, The Marlin Fly School, off Los Suenos CR, vessel "Dragin Fly" June 2014, Jake Jordan instructor, Big Marlin on Fly
Blue Marlin Fly Fishing, School Report
July 27, 28, 29, 30, 2014
Greetings from Los Suenos Costa Rica:
July 27, 2014: Roy Cronacher, and I, met up with mates Marcos and Alberto, along with Captain James, at the Los Suenos marina, at about 12:30 PM. We boarded "Dragin Fly", and headed out of the marina at about 1:00 PM, the plan was to run for an hour at twenty four knots and then slow down to 7 1/2 knots and troll to "Destination Blue Marlin-X" (BM-X), which we should reach just before daylight the next day. As we put out our teasers shortly after 2:30, we raised a sailfish, Roy made a good cast (pink and white Cam Sigler popper fly) and ten minutes later we released a 70 pound sailfish on fly to get the skunk out of the boat. Later, We raised a small Blue Marlin, it teased to the boat, however it refused to bite on the fly which Roy presented. At 7:00 PM we had homemade Lasagna for dinner along with Ice Cream for our desert, and then went to sleep.
July 28, 2014: We awoke at 4:30 AM to the smell of sausage, eggs and freshly brewed Costa Rican coffee. At six AM we put out our teasers, Roy hooked his first Blue Marlin at 7:00 AM, fought it for 5 minutes then broke it off. Next at 7:45, Roy asked me to show him how it's done, I made a good cast and right away that 250 pound Blue Marlin came out of the water and gobbled my pink and white Cam Sigler fly, 23 minutes later I caught and released that awesome fish. On the 9th fish that we raised, Roy got a good bite from a 150 pounder, it ran way out, went deep, and stayed there for about 6 minutes. Then the marlin charged to the surface, jumped and broke the 20 pound class tippet. after a couple more raise with no bites, a red hot 200 pound Blue Marlin charged in and ate a great cast which Roy made, unbelievable but the class tippet got cut by the gill plate of marlin on the eleventh jump, it was gone. We continued to raise marlin however, they were spooky and hard to get a bite from, then at 2:30 PM I caught and released a 125 pound Blue. The total score for today when we quit fishing was 24 Blue Marlin raised, five of them bit our flies, and we caught and released two awesome Blue Marlin on fly. We got a hot shower, ate fresh yellow fin tuna, shrimp scampi, along with fresh green vegetables for dinner, went to sleep at 8:00 PM.
July 29, 2014: After breakfast at 4:30 AM, we pulled the sea anchor, we had drifted six miles over night, so we had to run back to (BM-X) and we deployed the teasers at 6:00 AM. Today it was Roy's turn to achieve his goal, to catch a Blue Marlin on fly during this trip, we raised 5 blue marlin before 7:30, then Roy hooked, fought and released his first Blue Marlin on fly before 8:00 AM. At 8:40, Roy caught and released his second Blue marlin of the trip, and of his life. Then by 9:40 AM we had raised 16 Blue Marlin, and I released a 140 pound Blue on fly, my third of the trip from three bites. We kept raising marlin but they were finicky, hard to get them to bite, at 1:30 I raised, cast to and caught a red hot sailfish on fly. Next after a couple of misses, Roy caught a nice 200 pound Blue Marlin on fly, his third of the day and third of our trip. Later we raised another sailfish, I made the cast and caught my second sailfish of the day. Today the final score was 37 fish raised, Roy caught 3 Blue Marlin from 7 bites, while I caught one Blue Marlin and two Sailfish on fly from 3 bites. After a great meal and hot shower we went to bed at 8:05 PM.
July 30, 2014: We headed in early in the morning, it is a long trip but we had enough fuel to run at cruising speed for close to four hours, which got us back to the dock here in Los Suenos Marina by 3:00 PM. Our trip was awesome, James is an awesome captain, while Alberto and Marcos not only are very good fly fishing mates, this crew loves their job. George and Anna Beckwith run a first class operation and we have developed a world class team here to operate my Blue Marlin fly fishing schools. The Blue Marlin were finicky at destination BM-X, however, we fished two full days, with two travel days spent heading out and getting back in to the marina,. During our two days of fly fishing for Blue Marlin, we raised 61 Blue Marlin, and 3 Sailfish, We managed to get bites from 12 Blue Marlin, Roy caught and released three Blue Marlin on fly from 9 bites, and one Sailfish from one bites, I got 3 bites from Blue Marlin, and caught all three, also I got 2 Sailfish bites and caught them all. Total trip Score 6 for 12 on Blue Marlin on fly, and 3 for 3 on Sailfish all on 20 pound test tippet on fly. Now Roy and I are going to hit one of the great restaurants here at the Los Suenos Resort, and then get a good night sleep. I love my Job, wish you were here, stay tuned for more fly fishing reports and pictures from this trip. This fishing should remain good for at least one more month, if you have dreamed about catching a Blue Marlin on fly, this is the best opportunity ever, give me a call I have a few days still available.
Regards
Fly Fishing Report,
"The Blue Marlin School"
Los Suenos, CR, June 17, 18, 19, 20, 2014
Greetings from Havelock, North Carolina:
I arrived home from one of my best fly fishing for Marlin trips ever, late at night on Saturday, June 21, 2014. After a full day of unpacking, resting, and gathering my thoughts, I decided to try to compose a factual trip report, regarding my recent "Blue Marlin Fly Fishing School" trip aboard the 43 foot vessel "Dragin Fly", out of Los Suenos, Costa Rica. I will include a couple of still pictures, however the quality is not good as most of the action was filmed on a Go-Pro video camera (many hours), and I do not know how to edit that footage yet, so I am waiting for my editor to have a day off to show it to her.
Paul Lombardi from southern California was my student for this my first, of many to come" Blue Marlin fly fishing School" in Los Suenos, Costa Rica, aboard Dragin Fly. Paul and I arrived at the world class, Los Suenos resort, on Monday, June 16, where we checked into our luxurious three bedroom condo after traveling from home today. We had dinner in one of the six great restaurants, the Italian one, and then, back at the condo, we prepared our tackle for our fly fishing adventure.
My gear included four TFO, Blue Water heavy duty (billfish) fly rods, four Mako #9700 Fly Reels, with 700 yards of gel spun backing, and Rio Leviathan, 550 grain shooting head fly line. I also brought one hundred Cam Sigler, pink and white popper head, tube flies, along with plenty of 16 and 20 pound mason hard class tippets, with 100 pound shock (bite) tippet material, and several hundred Gamakatsu 6/0 and 7/0 octopus hooks. Paul and I went through the tackle, sunscreen, and packed light for our 4 days at sea.
On Tuesday morning June 17, after visiting with some friends of boats at the marina, we had breakfast at "The Hook-up" restaurant at the marina, loaded our gear into mu golf cart, and headed down to "Dragin Fly" at 10:00 AM. We were greeted by Captain James, along with his mates Alberto and Marcos. The crew has fueled the boat and stocked all food and provisions aboard, so after loading our gear we pulled out of the Las Suenos Marina at 10:30 AM, and ran an hour offshore. We then deployed a couple of teasers and began trolling out to a spot about 109 miles from the marina, I call this spot : Destination Blue Marlin - X-1 or (BM-X-1). We raised one 450 pound Blue Marlin in the after noon but id did not tease in for a shot. Then at about 4:30 PM we found a school of yellow fin tuna, Paul caught a 20 pound yellow fin which we would have for dinner. At 10:00 PM we arrived at (BM-X-1), deployed our sea anchor, took a hot shower, and went to bed. The wind was under 10 knots and the seas were calm to a light chop, partly cloudy skies.
Wednesday Morning, 3:30 AM we woke up, washed up, ate great hot a breakfast of sausage, eggs, toast, and good Costa Rican coffee around 4:30. The crew then pulled the sea anchor and began deploying our teasers at about 5:10 AM. I caught my first Blue Marlin of the trip less than 20 minutes later, about 175 pounds, (showing Paul the technique of hooking and fighting these big which I use while fly fishing for billfish).

By 7:00 AM, Paul had hooked a 250 pound Blue marlin which came unhooked after a 5 minute battle. Next Paul hooked and landed a 150 pound Blue Marlin on fly, his first ever Blue Marlin and his first Marlin on fly. By 8:00 AM we had raised 5, got 3 bites and Caught 2 Blue Marlin on fly,

so far so good.
As the day went on , I caught a second Blue Marlin, (about 250 pounds), then Paul pulled the hook on another Blue Marlin. By the time that we quit fishing and put out the sea anchor, Paul had caught his first blue Marlin (ever) on fly, from 4 bites, and he caught a sailfish on fly, My score was three Blue Marlin on fly from three bites, along with one sailfish, all on fly. Three Blue Marlin on fly was my personal best ever day of fly fishing for Blue Marlin. The total Boat fly fishing score after day one of my Blue Marlin fly School was: 21 Blue Marlin and 3 sailfish raised, 7 Blue Marlin and three sailfish bites, while we caught and released 4 Blue Marlin and two Sailfish on fly in one day, a new daily boat record aboard "Dragin Fly". James, Alberto, and Marcos, are a great crew, the boat is perfect, smiles all around, fresh tuna Sashimi appetizers, Pasta and meat sauce for dinner, sleeping at 7:30 PM.
Thursday, June 19, We awoke to the smell of hot coffee along with eggs and sausage cooking, at 4:00 AM, took a shower, had breakfast, and went fishing at 5:30 AM. The wind died over night and the seas were dead calm, we fished for three hours and never saw a fish. There is another sea mound with FAD, close to 40 miles further out to sea, we decided to fish our way over to that spot, I call it "destination Blue Marlin-X-2 (BM-X-2).
At about 11:30 AM as we approached the area, we raised a 175 pound Blue Marlin, I cast my Cam Sigler fly to it, and 15 minutes later I had released our first Blue Marlin of the day. During the next hour Paul hooked two more blue Marlin, a 150 and a 200 pound fish, both pulled the hooks after a good fight, and then I hooked a big, 275 pound, really tough, Blue Marlin. This fish fought really hard for over an hour, and finally I got it to the boat for a release and my fifth Blue Marlin on fly during the two days of fly fishing (my 25th Blue Marlin on fly during my lifetime).
Paul Lombardi, then cast to a big Marlin, (over 300 pounds), it ate the fly and the battle was on, when that fish jumped, James yelled out, "It is a Black Marlin" close to 350 pounds. Paul did a great job, and just over 20 minutes later he released his and the boars first ever Black Marlin on fly! Our total score today was 5 Blue and one Black Marlin raised, four Blue and one Black Marlin bites, with "Team Dragin Fly" catching two Blue Marlin and a Black marlin on fly by 5:00 PM. WOW!
We left "BM-X-2, at 5:00 PM and trolled back over to the inside FAD, "BM-X-1", arriving and setting the sea anchor at 10:00 PM. We woke up at 4:00 AM fished for an hour or two, without raising any Marlin, and then began fishing our way back at
toward Los Suenos Marina. We arrived back at the marina at 2:30 PM with a happy and tired crew, what a great trip. During our two days of fly fishing, at my first "BLUE MARLIN FLY FISHING SCHOOL" Costa Rica, while fly fishing on destinations BM-X-1 and BM-X-2, our team raised a total of 25 Blue Marlin, one Black Marlin, and four Sailfish. We got bites on fly from 11 Blue Marlin, one Black Marlin, and 3 Sailfish, and we caught and released, 6 Blue Marlin, one Black Marlin, and two Sailfish aboard fly "Dragin Fly".
My friend Nick Smith was also fly fishing in the area, aboard his vessel "Old Reliable", with Captain Chip Shafer at the helm. Nick caught nine Blue Marlin on fly during the same time period. Congratulations to Chip and Nick, in my opinion they are the best at this fly fishing for marlin of any team that I have ever ran into.
There is no Question that, as of right now, we are experiencing really good fly fishing for Blue Marlin. I have openings available for anyone who would like to experience the thrill of catching a Blue Marlin on fly, here at my "Blue Marlin Fly School" this summer while the fishing is red hot and the seas are calm.
Between Operating My "Sailfish Schools" out of the world class "Casa Vieja Lodge" in Guatemala, with the best Sailfish on Fly in the world, and my "Blue Marlin on Fly Schools" , out of Los Suenos resort in Costa Rica, we have you covered. I still have a few openings during prime season at both destinations. Call me now and lock in your prime time dates, you won't be sorry! Stay tuned for more Fly Fishing Reports to Follow shortly. I will post video to you-tube when it is edited.
Marlin on Fly, Jake Jordan Angler, "The Marlin Fly School" Los Suenos CR vessel "Dragin Fly"
"Blue Marlin on Fly Schools"
June, July, August 2014
During the last several years, several of my friends have experienced unbelievable Blue Marlin fishing, while fishing more than 140 miles off the coast of Costa Rica. Last summer one boat raised between 14 and over 100 Blue marlin per day during the 16 days which they fished this small patch of ocean. One angler caught as many as 18 Blue Marlin on fly in one day, and four or more per day on all but one day of the 16 days fished. Another boat hooked more than 10 Blue marlin on fly per day during 24 days fished in this same area.
The location is near a FAD (Fish Aggravating Device), located on a mountain top which comes up from 8000 foot below the sea surface to 1,400 foot below the sea surface. The area which we will be concentrating on is the size of a city block, the FAD draws bait, and the Blue Marlin come here to eat.
My plan for the first trip (June 16-21) is to fish this area and then during at least 4 more, four day trips (Marlin Schools) during the summer of 2014. We will be fishing aboard a 43 foot Maverick, sport fishing yacht, with twin diesel engines, air condition, and refrigeration and generator for electricity, out of the Los Suenos resort Marina in Los Suenos CR.
We will arrive in Costa Rica, be picked up by a private driver and be transported to the Los Suenos resort & marina, where we will check in to our luxury condo on day one (Travel Day). On day #2 after provisioning the vessel, with food and supplies, and after breakfast, we check out of the Condo and board "Dragin Fly" around noon and then head out to sea.
After fishing from the time we depart until dark we will continue at trolling speed to conserve fuel all night. The Captain, two mates, and I will rotate on watch and sleep in shifts during the night while guests eat and sleep until we reach the location at dawn. On day three we will fly fish for blue marlin from dawn to dark, and then eat and sleep while on a sea anchor. Day four we wake up and fly fish for blue marlin from dawn to dark, after which we will begin heading back to shore at trolling speed. On day 5 we will then fly fish from dawn to roughly noon during the last 60 miles back to the Los Suenos Marina. We will check into the condo at Los Suenos, clean up, have a great meal and spend the night there. Day #6 after breakfast, our driver will pick us up and take us back to the San Jose international airport for our flight home.
These packages include private rooms (Lodging) in a luxury condo, ground transportation while in Costa Rica, charter of the boat (Dragin Fly) for entire trip, food and beverages while aboard "Dragin Fly", bait and tackle for teasing, breakfast at the marina. I will also supply all fly fishing tackle, flies and instruction, during this "Blue Marlin Fly Fishing School" along with accompanying the students throughout the trip. Some of my proposed dates for the first four of these schools are as follows; We also have other dates available for customized trips, also we offer extended stays where we can fish daily and stay at the hotel for daily rates. These trips are limited to one or two students per trip, per boat. All of these trips are to be customized to fit the needs of my students, call me if you have any questions or wish to put together a Blue Marlin on Fly School.
Arrive - June 16, fish June, 17, 18, 19, 20 depart June 21 (Sold out, Lombardi)
Arrive July 9, fish July, 10, 11, 12, 13, and depart July 14
Arrive August, 4, fish August,5, 6, 7, 8, and depart August 9
Arrive August 10, fish August 11, 12, 13, 14, and Depart August 15 (Sold out, Cline & Maybee)
Let's get started, contact me now to plan your Fly Fishing for Blue Marlin trip of a lifetime!
Captain Jake Jordan
Rick Pope, Lefty Kreh. Jake Jordan, TFO Booth, Somerset NJ Fly Fishing Show, January 2014
Fly Fishing North Carolina

The Cape Lookout area of eastern North Carolina offers some of the best fly fishing for false Albacore in the world! You should join me to experience these wonderful high powered speedster during October and November. I am now accepting reservations for September, October, and November of 2014. Fly Fishing for Albies charters in my custom Jones Brothers Cape Fisherman 2000 Guide Boat, "FLY REEL", full day Albie and Drum fly fishing charters here in the cape lookout area cost $700 per day, or $500 for a half day charter. Contact me for available dates.


North Carolina fly fishing information and current fishing reports are available by clicking on the: "North Carolina Fishing" link at the top left side of this page.
(Page 4)
Customized, World Class, Fishing Vacations, and Fly Fishing Schools!
Fishing Report List:
If you do not now receive my updated fishing reports and you would like to, please send an E-mail to me requesting to be added to my (Blind Copy) "Fishing Report List". More than 8,000 anglers have requested to receive my Fishing Reports, this list is not for sale and it will not be used for any other purpose. Anyone wishing to be removed from this list should e-mail that request directly to me.

"Sixth Annual "Jake Jordan, Invitational, Sailfish, Fly, Challenge"
This is a good time to request a invitation to fish in this prestigious fly fishing for Sailfish event. The fishing dates are January 6, 7, 8, 2015 with a practice day/ arrival day being on January 5, and departure planned on January 9, 2015. The host location is the "Casa Vieja Lodge" in Guatemala, the finest fishing lodge in the world period! More information is available by clicking on the Billfish School tab on the upper left of this page. This tournament is limited to 10 boats.

Sailfish Schools in Guatemala:
I still have several spots available for students who wish to attend my "Sailfish Schools" which will be held at The Casa Vieja Lodge in Guatemala, during December, of 2014, January, February, and March and December of 2015. Please contact me or check out my "Billfish Schools" page for available dates should you care to join me for the best fly fishing for sailfish in the world.

Mako Fly Reels:
Check out and place your order for the new MAKO FLY REELS by Jack Charlton. The new 2014 prices and pictures are now posted on my Mako Reels page. Please contact me for information on fast delivery of most Mako fly reels. Order now for delivery before Christmas.

Marlin Fly Fishing Schools:

Fly fishing for Blue Marlin has become much more prevelant since 2012, during the summer of 2013 my friend Nick Smith caught more Blue Marlin in fly per day than has ever been done in the history of the world. This is due to many more Blue Marlin being available si several places on the globe than ever thought possible. There are several places off of the coast of Coata Rica where my friends have raised as many as dozens of Blue Marlin in a single day, My friend Nick, aboard his "Old Reliable" caught 18 Blue Marlin on 20 pound tippet, on fly, in a single day! During June 18, and 19, 2014, my client Paul Lombardi and I, fishing aboard "Dragin Fly" out of Los Suenos CR caught and released 6 Blue Marlin, 1 Black Marlin, and two Sailfish on fly. During this trip, Paul caught a grand slam Blue Marlin, Black Marlin, and Sailfish on fly, while I has my best Blue Marlin fly fishing ever, I caught and released 5 Blue marlin on 20 pound tippet, on fly, from 5 bites, during one trip.
I am planning to fish as many as 5 more Blue Marlin Fly Fishing Schools off of the coast of Coast Rica, during the second half of June, July, and August of 2014. These schools will be for one or two students who will arrive on day one. Then we will spend day 2, 3, 4, 5 traveling two and from this red hot location roughly 150 miles off shore from the marina. We will be fly fishing for Blue Marlin during all daylight hours while we are at sea during those four days. when we arrive back at the marina on day five we will again check into the condo and spend that night getting ready to travel home. Feel free to call me for more information on this world class trip for the best Blue Marlin fly fishing in the world!
My "Fly Fishing for Marlin Schools" for Striped Marlin on fly will not be held this year out of San Christobal, in The Galapagos Islands, Ecuador, due to the poor showing of Striped Marlin over the past several years.
I am however looking at doing some Striped Marlin Schools near Mag Bay, Mexico along with down in Port Stevens Australia. Let me know if you have any interest?
I have several Marlin School packages planned with duration of 5 or 6 days of fly fishing for Blue and White Marlin scheduled during February and March of 2015, we will be locates in Casa de Campo, Dominican Republic. We will be staying in 3 bedroom condo on the marina, while fly fishing aboard the 48 foot G & S Sport Boat "Tradition", with Captain Tim Richardson. Please contact me as soon as possible as these exotic fly fishing for marlin packages will fill up quickly. Each Marlin School is a customized package with dates arranged based on being there during prime fishing periods. Call and reserve today!
World Class Angler:

Captain Jake Jordan is now available for speaking engagements, PowerPoint presentations, and fly casting clinics to fly fishing clubs and fly fishing shows. Check out page 3 for more information or contact Jake directly to book dates.

Florida Keys Sport Fishing:
Fly fishing for Tarpon; The Middle Florida Keys offers the best fly fishing for Tarpon in the world. I am now taking reservations on prime dates during April, May, and early June, of 2015. I guide one or two fly anglers who want to experience the sheer power of these wonderful fish on a fly rod every night. This year I am offering catch & release Extreme Night Tarpon Fly Fishing charters, aboard my Jones Brothers Cape Fisherman, vessel "Fly Reel". I am now taking reservations for my April, May, and June dates in 2015
Please click the link on the menu above for the latest Florida Keys fishing reports.
The Bonefish School:
Learn the art of fly fishing for Bonefish from the best most experienced instructors in the best location available. "The Peace & Plenty Hotel" on Exuma island in the Bahamas has been our headquarters for "The Bonefish School" for decades. Check out the Bonefish School page for 2015 dates along with other Bonefish School information.

Giant Silver Salmon on top water flies in Alaska:
For several dozen years Alaska has been my headquarters during August, and September, I believe that Alaska is the most beautiful spot on this magnificent earth. Late August through early October is prime time for giant Silver Salmon on top water flies which are to be found found along the "Lost Coast of Alaska". I offer customized "Fly Fishing Schools" and custom fly fishing vacations at the best locations to catch these awesome Silver salmon on dry flies. Contact me for available dates along with the latest information on this fishery.

Giant Alaskan Rainbow Trout and Dolly Varden:
Alaska is the home of the largest wild Rainbow Trout in the world. I know where they live and how to catch them. Join me in Alaska at Troutfitters, in Coopers Landing, during September, of 2014 and share the fly fishing adventure of a lifetime. Alaska Fishing reports usually begin in August. Contact me for more information or check out my Alaska information by clicking on the Alaska link on the upper left side of this page. Now Booking for 2014 season!

Contact Captain Jake Jordan:

Phone: 252-444-3308 (Home / Office), or 305-872-6060 (Cell)

keysjake@aol.com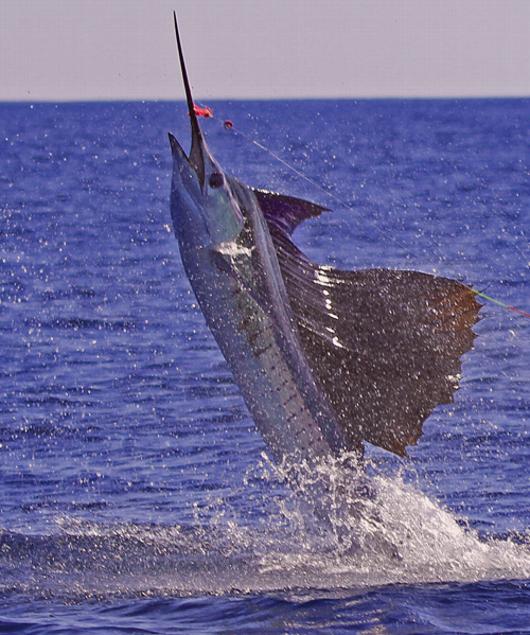 Sailfish on Fly, Jake Jordan's Sailfish School, Casa Vieja Lodge, Guatemala, January 6, 2012, Intensity, Captain Mike Sheeder, Brian Buckler Angler


Today is the best time to reserve your prime dates in Guatemala for my "Sailfish School" dates, during, March, and December of 2014 along with January, February, and March of 2015.
I am also now taking reservations for "The Marlin School" .
which includes, the best opportunity in the Atlantic ocean for Blue Marlin and White Marlin on fly. I am looking for a few good fly anglers to join me fly fishing for Marlin, (Blue) in The Dominican Republic during February and March of 2015. We will be fishing aboard a 49 foot G & S boat with Captain Timmy Richardson.
Call today for more information, exact dates available, and pricing!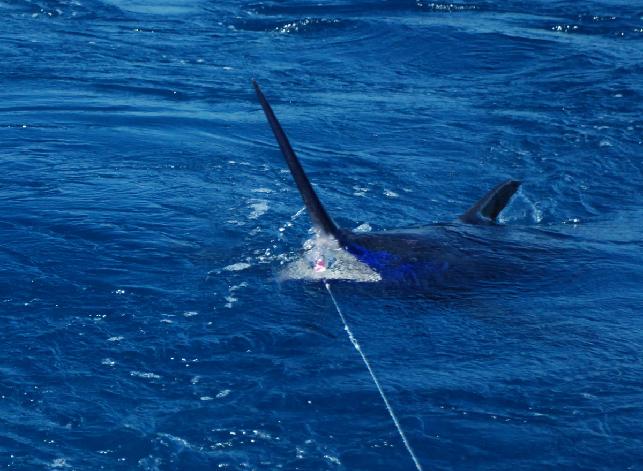 Guatemalan Blue Marlin Fly Bite, Jake Jordan
The next chapter begins here, at 3:00 PM we were getting ready for the long two hour ride back to the dock, Ken, Greg, and George were sitting inside talking about this awesome day, I was in the cockpit with the mates when I heard captain Mike yell "MARLIN", "BIG MARLIN". I calmly picked up the TFO Bluewater HD fly rod with the Mako #9700 fly reel, rigged with a RIO Leviathan fly line , 20 pound tippet and a Cam Sigler Marlin Fly, with the drag set at one pound of pressure and got the fly ready to cast. Ken moved the sailfish rod out of the way, as I asked him if he wanted to take a shot, He said "You show us how it is done" so, when the big Blue Marlin came in hot I made the cast.
The big Blue Marlin swam around trying to eat the teasers, I cast again, she swam under my fly and then chased another teaser which Flaco had cast to get her to come back in. I made the third cast and this monster fish attacked my fly within 25 foot from the boat. Within 10 seconds that marlin was 200 yards out gray hounding away and then back at the boat. Much of the next 30 minutes is a blur to me, I just did what I have been teaching anglers to do for the last 25 years of my Billfish Schools, "relax and let the rod and reel do the work" "don't squeeze the rod, loosen your grip, keep the rod tip low, when the fish is going away then the angler should relax, then apply maximum pressure on the fish when she is facing you".
During the next half hour I ate some ice
cold pineapple and drank 2 bottles of water, took off my sun glasses, and worked through several charlie horses in my legs, all while applying pressure on this big marlin. Captain Mike Sheeder who has caught 6 other Blue marlin on fly with me as his angler, maneuvered the "Intensity"
perfectly, we circled that fish at least a dozen times as we tried to get an angle to bring her to the surface.
At some point I was winding line in from behind the boat when she surfaced and jumped 3 times 100 yards in front of the boat, Mike swung the boat and I gained 250 feet of line and was on the fly line after an hour of battle.
One hour and 15 minutes into the battle I got within 20 foot of her and then she ripped off 50 yards of backing, she really looked big to me. I was thinking about "Oh lord, this fish is so big and my boat is so small" and then I was wondering just what this Marlin was thinking? With cheering from Ken, Greg, and George, I began to feel that marlin start to tire, I had been resting and felt strong. I was on the fly line, just 25 foot from the leader and a release of another Blue Marlin on fly, the drag on my Mako reel was now set at 6 pounds and she was coming up slowly. At 4:23 I got the leader through the rod tip and secured the technical release, she surged and I let her have back 15 foot before stopping her increasing the drag to 8 1/2 pounds, and lifting her close to the surface, and then at 4:27 mike slipped Intensity into reverse one more time and I wound the fly rod tip all the way down to the class tippet, confirming that this was a really big female Blue Marlin. She was really thick and deep, and was longer than the transom of the Intensity is wide, the boat is about 11 foot wide, I think. I said that she was the largest fish that I had ever caught or even seen caught on fly, Mike said that she was well over 400 pounds, the crew agreed. We got in after dark.
My 400 plus pound Blue Marlin, caught on 20 pound IGFA Class tippet, aboard "Intensity" with Captain Mike Sheeder out of Casa Vieja Lodge , just a few days after My Sailfish tournament set all kinds of numbers records for fly fishing for Billfish events, Made January 17, 2011 by far the best fish and the best day in my life. Thank you all for allowing me to share my passion with you, I do really love my job, more reports to follow.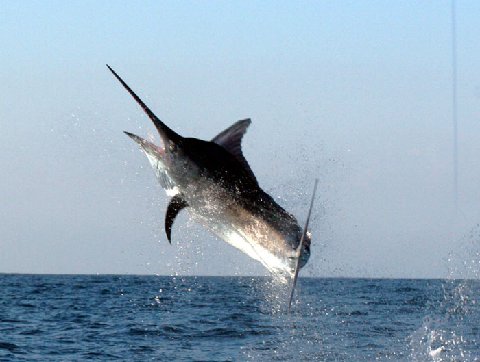 Guatemalan Black Marlin, Caught by Jim Turner owner of CAsa Vieja Lodge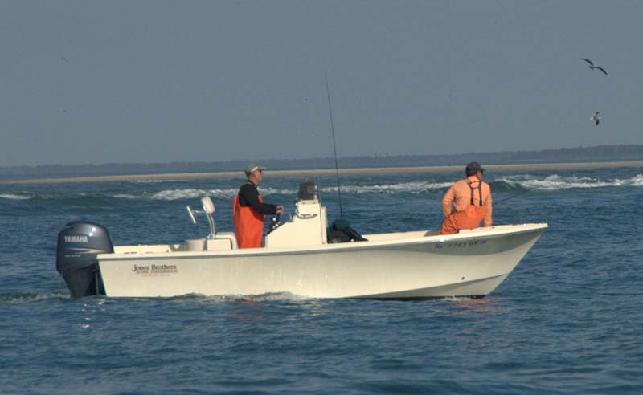 Captain Jake Jordan's Vessel 'FLY REEL" Jones Brothers Cape Fisherman 2000. looking for Albies at Cape Lookout NC.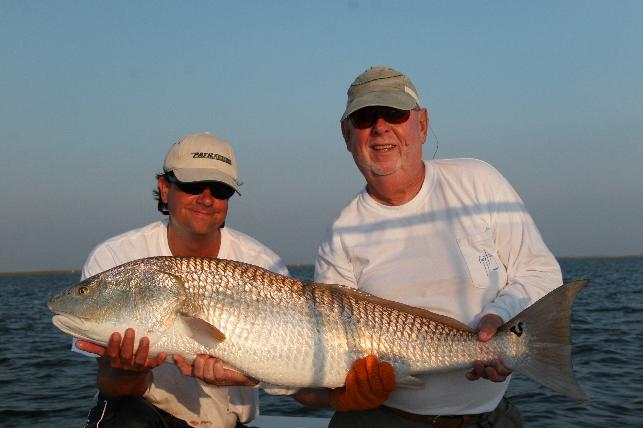 Old Drum (Redfish) are here in North Carolina Now July and August
240 pound Galapagos "Marlin School" Striped Marlin on fly!
Contact: Captain Jake Jordan
Jake Jordan's Fishing Adventures
P O Box 309
Havelock, NC 28532
252-444-3308 or 305-872-6060